>> Monday, June 2, 2008
I was tagged by Jeanny. This is so pretty and I love it. Thanks so much.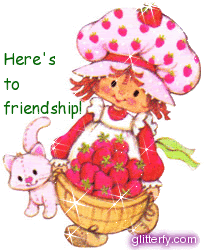 To keep this meme going, I'm tagging 5 of my blogger friends:
Gina,Roselle, Imom, Haze and Pining.

Here's a rose for you!



[Glitterfy.com - *Glitter Photos*]

So friends, tag 5 featured friends for the week, inform then of the tag to keep the ball rolling. A sparkly badge would be a plus.